So I ordered up two meters of acoustical ducting from Westy Ventures right before the main freeway got shut down for bad weather. That was a bummer because I was hoping to get it installed prior to an overnight trip we had planned to test out the furnace in a real-live camping situation. Oh well. Life goes on and camping is camping, so off we went!
We loaded up in the morning, got the trailer out and moseyed on down to the gas station to top off the tank. On a lark I checked my email before leaving the gas station and, lo and behold, the ducting showed that it had been delivered. Fortunately the gas station was close to our mailbox place so we cruised over and picked it up before hitting the road. The drive to Camano Island was uneventful with a short lunch stop and a quick visit with a friend whom I haven't seen in more than a few years. We made it to Camano Island State Park with a few hours of daylight to spare, so I popped out the tools and installed the acoustical ducting.
A couple of notes on working with the ducting:
- You can cut it with a box cutter, but there is a reinforcement that is spirally wound around it. The reinforcement is plastic and can be cut with the box cutter but it is probably easier and safer to use a pair of scissors or diagonal cutters.
- The acoustical ducting cannot handle as tight a radius as the non-acoustical ducting. I had to add about six inches to one of my runs to keep it from collapsing on itself.
- It's a little more challenging for the ends to hold a nice round shape. This makes pushing it into or onto fittings a little more difficult. Not impossible, but if you're doing the install in a campsite without much lighting and all of your camping stuff in the trailer, it can be a bit more difficult than it needs to be. Two kids sitting on my back didn't help much either.
I fired up the fan after the ducting was installed and I will say, it makes a big difference. The fan is still noticeable, but it's much more subtle of a sound. I used it on both supply and return sides.
The site we were at was perfect for the kids and adults. We were hemmed in on three sides by thorny berry bushes (great at keeping the kids contained). The tree in the site was easily climbed up to about 4' off the ground and had lots of knots and holes to keep the kids entertained. We could see Mt Rainier to the south and the Olympics to the west over Whidbey Island. The beach was a short but steep walk away.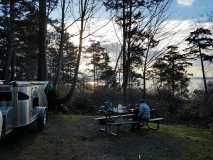 But, that's not why you're reading this. You want to know how the furnace worked, right?
Well, so do I.
Because, well... after all that testing I did in the driveway....
I forgot to get the bottle refilled.
So there was no propane.
Which meant that there was no heat.
Yeah.
Fortunately my loving family decided to stick it out. We were only an hour or so from home, so it wouldn't have been a big deal to call it. I did get some good info from a little indoor/outdoor temperature dealie though. The coldest I saw it get outside while we were there was 35*F. The coldest I saw the trailer get was 61*F. It's a little chilly inside, but nothing that our blankets and being in close quarters couldn't ward off. I also had a 2 year old sleeping on my chest, which probably helped. I'm not sure how long it will take for my wife to forget about the propane though.