Hey everyone!
Here is our 1947 Kit Kamper, pre-restoration/modernization. Needs a LOT of work but we've got some good ideas and a lot of parts on the way to get it started.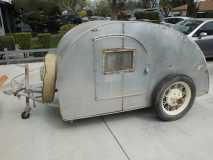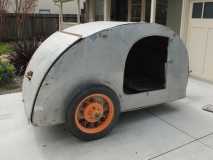 We purchased it earlier this year from someone in Northern California. Supposedly it sat in the desert in Arizona for a number of years. It's been hacked up quite a bit in its 70 year life. Lots of holes in the side, the model A wheels were added later (and the original fenders ripped off). The last person to use it tore the galley completely out and used it to haul stuff to swap meets. His son then inherited it and took the right door and trim off in an attempt to start the restoration process, but stopped and sold it.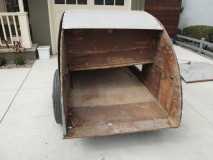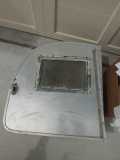 Luckily, the frame looks to be in good shape. I'm not sure about the axles yet, but the hubs will have to be changed to go back to the 15 inch rims and reproduction fenders I have for it. Obviously all the wood will be redone, and the exterior will likely get all new skin and corner trim as well. I'll try to salvage as much original parts as possible (like the window frames and some hardware), but in the end, I think a lot of the trailer will just have to be rebuilt on the original frame, using the old sides, hatch and doors as patterns.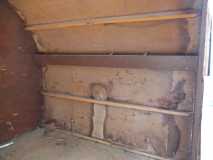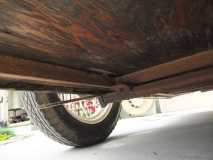 One thing my wife and I really searched for was an original, vintage trailer that we could restore/renew. New factory ones were too expensive and we didn't want to put a lot of effort into a harbor-freight base trailer. My brother-in-law is a welder and we toyed with a custom teardrop frame build too. We looked a a few home-made 1950's teardrops but none of them had paperwork, or they were just too expensive for what they were.
This winter I sold my motorcycle and I got serious about searching and found this one. We sprang on it not because it's complete or in good shape, but because it is truly an original 1947 Kit Kamper teardrop, and it has the proper paperwork to show it. It has the original 1947 yellow California plate, along with the black 1963 California plate (when all plates in California were changed over to the new standard). The title shows 1947 as the year of mfg, with Kit Kamper as the manufacturer. It was registered with the black 1963 trailer plates, but after about an hour at the DMV, I had the original yellow plate re-registered to the teardrop using the Year of Manufacture process. When cleaning the trailer out, I found a small pouch with title and registration paperwork going back decades.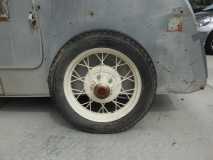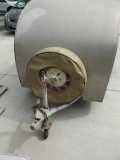 Hopefully this thread will give me some motivation to keep on working when things are tough or not going right. Hope you all enjoy as much as I will.