Quick update::
Yesterday: Front bulkhead re-installed,, had two pieces of 1/8" ply left over from skinning the inside of the roof. So scabbed them together for the skin.. Seam will be inside behind the shelves of the bulkhead and eventually behind doors.. Glued on skin using PL Premium, ratchet clamps to hold in place, , shot with wide crown staples on low air pressure..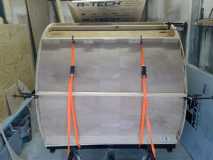 Get the struts over the skin in today and continue with the wiring..
With each post I'm that much closer...

Starting to see the light at the end of the tunnel.. sure hope it's not a bullet train...

I agonized for several months whether to start this project.. should I do it? could I do it? what would it cost? I am doing it !!!

For anyone that wonders the same thing..

Work on a plan.. start getting things together and then jump in.. You won't regret it..

You might make some mistakes,, I have... and I have learned from them,, fixed them and moved on..

And use this forum,, the people here are great.. a very big help.. anything you run into, you're not sure of, can be found here.. read and ask questions..
I remind myself,, just how much we will enjoy this when it's done.. get away from the house,, meet new people and have a blast camping...


That's what it's all about..

Building it and then using it.. Have fun, David