Ok, So I've got a bitch of a sister who hates dogs and a summer cottage that our families share. SO... I've got 3 options:
1. Shoot my sister.

2. Leave my new little buddy, Penny, home for the summer.

3. Build Penny and myself a teardrop and camp in the rear of the property.

I've decided to work on option #3 (but #1 is my fallback).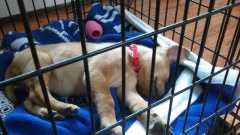 This will be a basic (no frills) foamy for a couple reasons:
1. This is a budget build (Wees Poorh)
2. Light = less gas
3. I'm a maverick and am always doing things... different.
So some details to start:
My initial thought is to go with a Benroy design. I'm a scavenger by nature and am on the lookout for older windows, vents and doors to recycle. In that vein, I've got an older boat trailer I pulled out of my buddies back yard with salvageable tires and frame in good shape. The size is odd tho. 3 1/2' x 14' (frame is 7', tongue extends another 7'). I'm at a loss on what to do about the vast length of the tongue but I figure if place an 4'x8' wooden frame on top and make another platform for a storage box I can use 3' or 4' of those feet. It'll be long and a little awkward but that's what I'm thinking right now. I could cut it and weld it shorter but, I can do that later. Time is more of the essence but your suggestions are all welcome at any time folks.
I plan on building an 4x8 wooden platform using 2x2's upon 5/8 treated ply filling the gaps with insulation. I have not predetermined what to top it with at this time. I might go 3/4 on the lower ply but I like to push limits and I'm leaning toward the 5/8ths. Again your thoughts welcome. My intention is to cut 2 4x8 2" thick insulation for the walls with a hot knife. I've got 2x4's I pulled out of a haphazard basement finishing project by my home's P.O. (he was bad). I plan on ripping those in two and using them as 2x2 stringers. I've got three 1/4 (1/8?) 3x8 plywood scavenged from Costco I wanted to use for the ceiling but I wish I had one more. Again these are 3'x8' pieces so for my 4'x8' floor plan I'm going to have to be a little creative. No definitive plan yet but I like a challenge so I want to work with them. To finish it off will purchase 2 9x12 #8 canvas, Titebond 2 and have plenty of paint to spare.
Suggestions welcome folks! First step is to clean up the trailer, fix the lights and rethink the wheel wells. Pics to come.