Received the two candidate rubber seals this afternoon: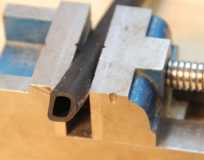 My initial reaction is that 50% compression, or even 30% is way too much for these.
I was able to compress the one to the left from 1/2" to 1/4" with the vise, but only by tightening hard, and that causes it to squeeze out the sides

Gave the one to the right a similar treatment, but only got to 3/8"
(Both seemed to recover without obvious permanent deformation.)
Difficult to build a jig that will exactly duplicate the conditions, but I'm thinking compressing either of these by much more than 1/16" or so may be a mistake. It's like turning a propane cock too tightly. It wears them out prematurely by eventually permanently deforming the rubber, and you have to keep tightening harder. I'll do some research and see if I can build a jig to test...
Right now I'm thinking of using the D seal for the hatch, and might use the other one for the cap over the battery case, which is open to the bottom of the trailer, and so will need a good dust seal.
Tom