I was able to fit the shower/toilet next to the galley.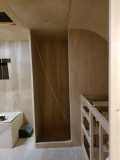 And still have room for a closet to house the electrical and a little storage. this is the finished closet and shower.
Behind that I was able to fit a dinette that transforms into a queen size bed. Also built in upper cabinets for storage all the way around the back.