After enjoying camping in my last project for a couple of seasons, it's time to move on to my next project. I previously documented the conversion of an old pop-up to a unique hard wall pop-up as seen in the pictures below. I basically gutted an old Jayco 1006 and eliminated all the canvas and outrigger beds. I replaced the canvas with lightweight portable foamy type hard wall panels and built a queen bed, two person dinette, and small galley cabinet totally inside the shell. My new project will use this pop-up as a base and will convert it to look like a vintage standy. The bottom shell will remain pretty much intact and the old roof will be totally eliminated and a whole new framework constructed above the bottom shell to achieve the vintage look. We will be camping in the pop-up one more time next month and then the project will begin. I plan to remove the old roof and hoisting system and re-work the bottom half in my garage this winter, but the new top end will have to be done outside in the spring (unless I can find a tall space to rent for a while).
More to come when I start the demo in about two weeks.
Front view of my existing pop-up with the hard wall conversion.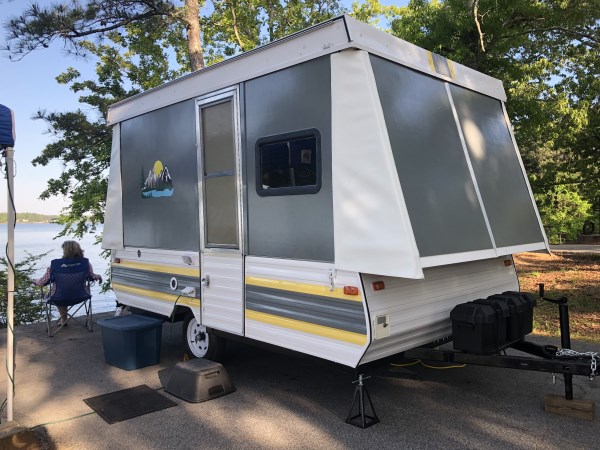 Rear view of pop-up.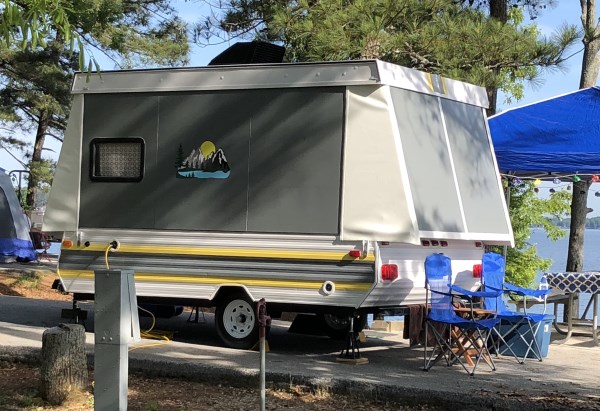 This is the vintage look that I'm going for. I found this image in an online search.
This is a rough scale drawing of what mine will look like.
Stay tuned.