While randomly surfing the internet yesterday, I came across this ad on craigsIist:
http://dallas.craigslist.org/mdf/rvs/5371182493.html
I'm still planning my teardrop build, and even though a 15k BTU a/c unit is way overkill, I decided to check it out so I called to inquire and it turns out it was Marathon Coach in Grand Prairie, TX (
http://www.marathoncoach.com/
) selling some units they have lying around, ones taken off new coaches during upgrades, etc. I drove out there to check them out and the ones he showed me were not the ones in the ad, they look pretty much brand new. I ended up getting one which I may or may not use but at $100 I could not pass it up. They are Coleman-Mach 8 low profile units without the ceiling assembly (which looks to be about $70 online). Here are some pics of the one I got: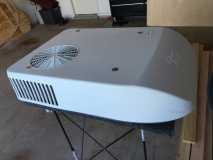 He still had 3 more in the pile I saw and said he had "a lot more", I mentioned I would post a link to his ad on here and he agreed for me to share his details so if anyone is interested feel free to contact Gary Vincent on 972-206-1064
Edit: The model number on mine is 47024A879
I hope this info helps someone.
g