My wife and I prefer to use a PET or "bag type" porta potty as it is lightweight and doesn't require me to dump any black water tank. In building my new foamy trailer, I decided to build a bathroom pedestal that would allow us to use either a bag type or a tank type portable toilet, as some campgrounds require the use of a tank type toilet to be considered fully "self contained." There aren't a lot of options when it comes to a light, inexpensive bag type toilet so I made one using a 5 gallon bucket, a "honey bucket" seat/lid assembly, and a basketball net. The total cost, including a box of Glad biodegradable trash bags, was less than $30!
I cut down a 5 gallon bucket and hack saw cut notches equadistantly in the rim to match the number of top webbing knots on the net, and stretched the knots in place (perfect fit!)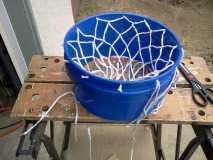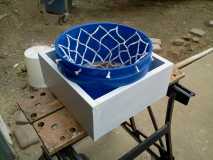 I made a simple wood box that would perfectly fit under the bucket rim and screwed into the walls of the box to secure it.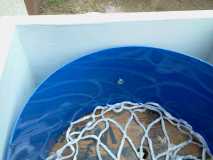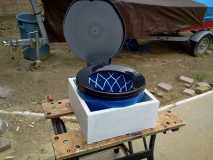 I added the Honey Bucket seat/lid assembly that snaps onto the top of the bucket, and designed a pedestal that was cut out in the middle to allow the net to hang below the top of the pedestal. I used zip ties to create a ring at the bottom of the net to support the trash bag and it is pinned in place on the pedestal (you don't want it moving around when you least expect it!)

You simply place a trash bag in the net, overlapping the rim, snap the seat/lid assembly in place, add a little kitty litter or chemical powder, and do your business. The commercial powders do a great job of "gelling" wastes and controlling odors and I've read that lightweight kitty litter works well, too. I haven't tried it but some folks like using cedar sawdust.
The pedestal is also made to perfectly support a tank type potty for the campgrounds that demand its use, also with secure blocking to firmly hold it place.