So I finally figured out what I want to build...mostly, anyway.
I started out looking at the Compact and Winter Warrior style popups and I liked the rear door of those and the Scotties. Because my trailer is built much like a boat trailer, a dropped floor in the galley would be a snap to 'cheat' my way into a bit of headroom while keeping the roof height lower.
A standie is a must, so are an enclosed head and a proper bed with sheets and blankets. My trailer frame is about 4'2" X 9' plus the bridle, so if I make the body 65" wide, the logical place for a 6'6" long bed is in the back...which precludes putting the door there.
Doing it that way leaves me two and a half feet of trailer to incorporate a door on one side and a small galley on the other. The head will be triangular and will occupy the space over the bridle, so by necessity it would seem I'm building a small horse trailer...
Needing only sitting headroom over the head means I can drop the roofline of the 'nose cone' to keep it a bit more aerodynamic and easier to pull with my 4cyl 2wd pickup. So, with all that firmly in my mind's eye, I decided to learn how to use SketchUp.
Here's how THAT part is going (not to scale):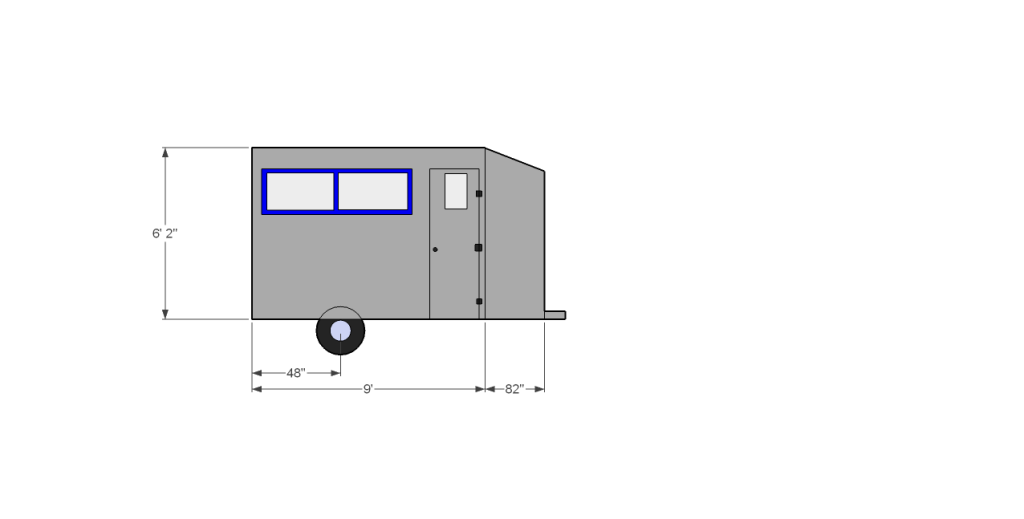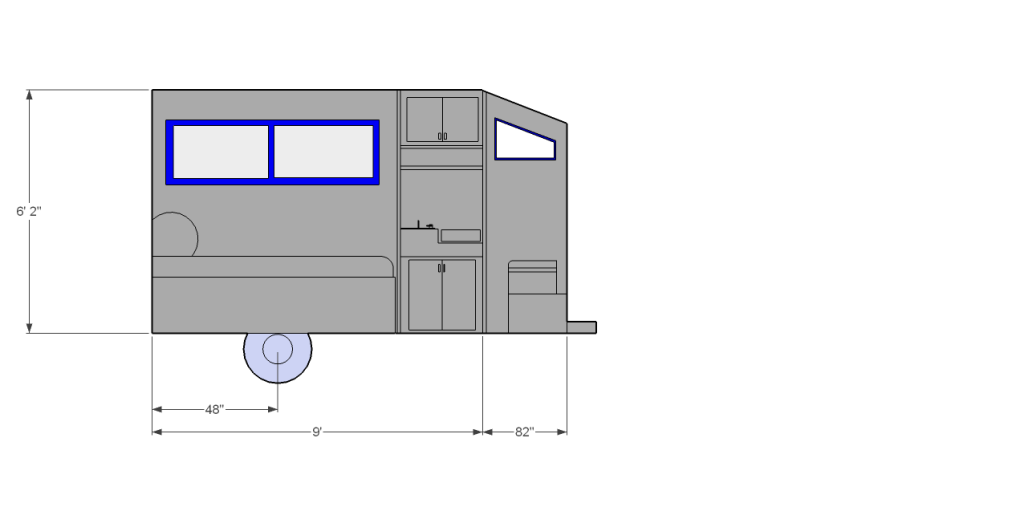 Thoughts ? Suggestions ? Critique ?
Like I mentioned in the other thread, I'm trying to be a bit ruthless about the weight. Obviously that doesn't tie in with 'thrifty' sometimes, so I have to make compromises in spots.
I'm working on the door right now since it's the smallest single panel and it will give me a bit of a learning curve as I shamelessly steal ideas from seeing what you guys have done with yours. The 'hard points' are 4/4 red cedar: light, rot resistant, and it soaks up epoxy like a champ. The vertical pieces are laminated strips of 1/8 X 1" doorskin ripped across the grain so that both outer plies have the grain running vertically to act as a shear web. I used TB3 for the wood/wood bonds and PL300 for foam/wood. The pic doesn't show the back side, which is skinned with more doorskin. Now I have to shape it, glass the foam face and seal the skin on the other side. The window will be fixed plexi.
This panel will tell me if I want to move forward with a foam floor (preferred) or use plywood.