edited to add note: This is a continuation of Mike's 10' Foamie
http://tnttt.com/viewtopic.php?f=55&t=44091
Wow! What an awesome site !
So I've been reading for several weeks now, and following several builds while gathering "parts" and info.
THANK YOU Mike and Mitchell !! (more on that later

)
I figured I might as well start a "build" thread ...I'll start at the top.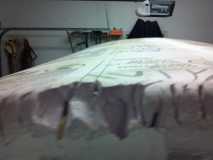 I have some damage to repair to the foam, which I was just going to fix with sprayfoam until I saw ghcoe using drywall corners on his #1 build. Thanks George !
So I went looking and found two types of plastic archway drywall corners, one bullnose (rounded) and one right angle. These are designed to go around curves. Perfect, they will add protection to the corners and give nice clean edges to the curves.
So , I did a little experiment to see if it might work... pictures should be attached.(if I did it right). I used Gripper, but might try TB2 as GPW has had better results on his Foamstream canvassing. Thanks GPW !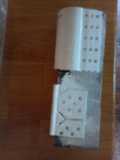 Corner to foam test.
I'm planning on using the right angle along the entire bottom of the tear drop, including the wheelwells, and the bullnose along the side edges.
I'll fill in the top damage with foam and put the bullnose over top of that. Everything will get covered with canvas.
Canvas over edging test
It's a nice tight bond, the holes in the plastic allow the gripper to come though to the canvas.