I thought I would introduce myself and my build. My name is Ron and I'm a mechanical engineer from Albuquerque, NM. I've spent the majority of my career writing software and doing statistical work. Go figure! Anyway, I like building things in my spare time and I decided my next project would be a trailer. The quality of work and ingenuity of designs on this site have set the bar very high. Here were my design criteria going into the project.
1. A pleasure to tow, simple and functional, and stylish. That pretty much describes the appeal of a teardrop trailer.
2. Standing room, a permanent bed, a permanent dinette, a potty. Ready to step into with no setup. A canned ham fits this pretty well and I really like the shape.
3. As inexpensive as practical. Foam fits the bill for keeping it light and inexpensive.
That's how I got to a foam canned ham.
Dimension specifics:
Width of trailer: 79 inches overall. Interior width of 75 inches.
Height interior: approx. 6 feet
Length of trailer cab: 12 feet. 3.5 foot long tongue
Total trailer length: 15.5 feet
Overall trailer height of less than 90 inches (7.5 feet)
Here is a look at the exterior design. Curbside:
Streetside:
Here is the ¼ scale model I made to get a better look at the shape and to be able to try out different paint schemes. I'm all ears if you have ideas for the paint scheme. This is just a first shot.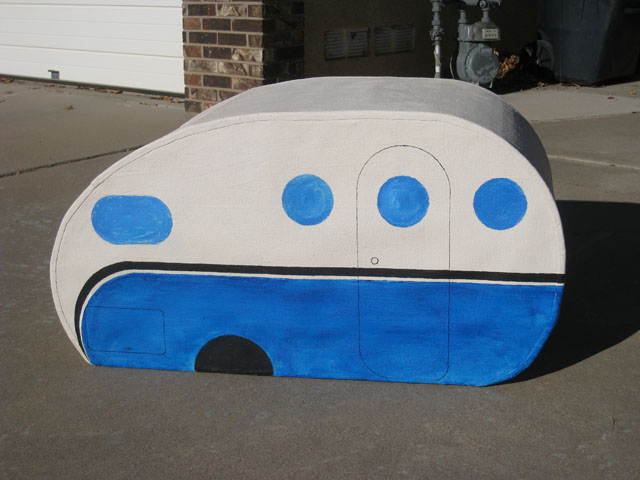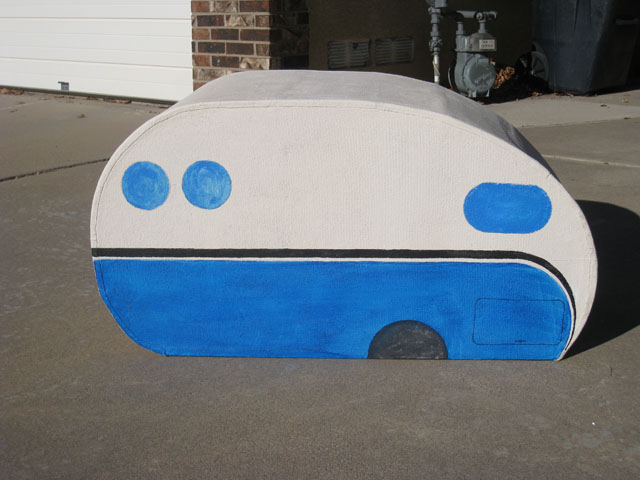 Interior:
Dinette up front. It is drawn with a round table but I'll make it with a table that can be turned into another bed or bench seating.
Potty compartment by the door. The compartment might turn into a cubby but it is shown here as a full compartment.
Pantry shelving designed to hold wicker baskets.
Cooler (the green thing) slides under the bed. That's a big 5 day @ 90 degrees cooler.
Counter with "closet". The red thing is carry-on luggage. The kind that fits in the overhead bins of an airplane. The wife and I are pretty adept at living out of one so we each get a spot for our carry on and that is our closet. Additional storage around 'closet'
Full size bed in the rear with accessible storage from the outside.
The black thing in the very back is the spare tire. I can't decide if I want to put it up front or in the rear.