With inspiration from many of you, especially Ron's Canned Ham, I decided to build a foamy. I wanted a light, comfortable trailer for my wife and me to travel in but it needed to satisfy some basic requirements:
- Around 1,000 lbs. loaded weight
- Sleeping space for 2 adults, min ~ queen size bed
- Interior height ~ 5'10" over dinette, 6'2" in bathroom/kitchen area
- Private bathroom w/window, both tank and bag toilet units accommodated, w/medicine chest storage
- Permanent sink w/removable 2 gal fresh water storage, hand powered pump, and grey water holding tank w/external drain (min 7 gallons)
- Single burner, self contained stove
- Ice box
- Removable battery/power source w/inverter and charger
- DC power jacks (lighter and USB sockets), LED interior lighting
- AC shore power hookup
- Clothes, shoes, gear, and food storage cabinets (under bed, wall/ceiling cabinets, closet)
- Externally accessible storage (tongue box and side pods)
- Leveling jacks on chassis rear corners
- Swing away rear bike rack allowing access to entry door
- Spare tire mount
After viewing available options on the web, I settled on a hybrid trailer of my own design, that wouldn't break the bank. I started with a landscape trailer that was on sale at the big box store (the blue one), as I don't currently have a satisfactory welder. It also simplified registration and about another month of work.
After extending the tongue, removing the ramp, and adding leveling jacks to the rear corners, assembly of the shell began.
[img]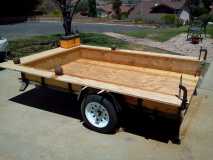 [/img]