This morning I unscrewed the wall from the subfloor, and I was happy to find that it did not sproing into a bow shape. It stayed flat as could be. Success!
So, I cut out the doorway with a single-razor box cutter, which really made smooth work out of cutting away the glued fabric: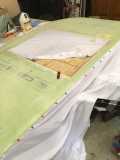 Then removed all of the pushpins holding the fabric while it dried overnight, and cut away the rest of the outline: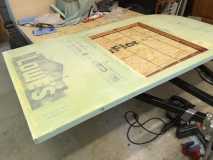 I was surprised how transparent the glued fabric is. Makes me a little worried that the other side of the TD has the Lowes logo facing outwards. I'm hoping many coats of paint/primer will hide that.
I was also surprised to find the glue was still tacky in spots, so I will wait for that to completely dry before painting with several coats of exterior paint. And then the wallpaper, although that won't go up until the TD is assembled.