I'm going to build by own popup hybrid camper, and I'm leaning toward a foamie. The box will be 11ft x 6ft, 30" high, with a rear bed, front dinette, and cabinets between. The roof will be tapered with a max height of 15" (when closed), with a hinged roof and foldable hard sides. When raised, I will have over 6 ft of headroom for the section forward of the bed, where the cabinets and dinette are. I want to keep it under 1400lbs. I have my donor frame - from an old palomino popup – I think I can use it with minimal modifications.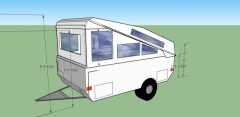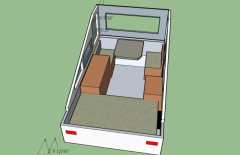 I've read lots of build logs, but haven't seen anything that addresses a couple of my concerns:
As this will essential be two open "halves", only attached by a piano hinge at the back and lock down clamps at the front (when traveling); will foam give enough rigidity to keep it from flexing, or do you think I'd need a stick frame (say 2x2) with XPS? I will use PMF for the exterior, and probably interior as well. I think that if I have enough rigidity during traveling, it will also be rigid when popped up. And I'll like to use 1 ½" XPS rather than 2", as I have a lot of aluminum trim pieces that I can use (which would be incorporated into the box and roof rails, like a traditional popup.
The hardwall sides should be pretty light using 1" foam construction, but will probably have aluminum banding. I know I have a lot of water sealing to do where the box and the roof meet, and where walls meet the roof, but the donor camper had folding hardwalls and I may be able to re-use a lot of the weatherstripping trim pieces.
Any comments or suggestions are appreciated. I'm still at the design phase, but have my frame stripped and will start prototyping some of the more difficult aspects of the build soon.