an idea I came up with that will be needed to make my mega-foam (foamie for 6) work.
each bunk box is 1' 4" or so long, I figure that won't be much of a problem sticking out the curb side of the camper.
the bunk boxes will be 3/8" plywood taped and glued with marine epoxy to seal the seams completely and avoid any fastener tear through or tear out problems.
Each box will be carpeted with the deepest shag carpet possible to keep noise, heat or cold where it belongs. The mattress will be full length foam, when the box is in the mattress will curl up wards at the end.
The bunk box is only meant to fit feet into, with four bolt type latches to hold it open it should be plenty to support nearly no weight.
paint the sides of the bunk box bright orange (reflective tape?) to keep anyone from driving/walking into it.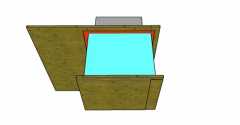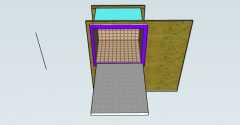 the end plate of the bunk box will be flush with the side wall of the tear when closed, the bottom of the inset area should be beveled to cause water to run out.
Another, inner end plate will have the latches mounted on it, and will seal off any gaps around the box when open.