Okay, so here is my tentative design: (Firstly, I apologize for the sketch-up skills. I just learned the stupid program over the last two days. I'm much more of a draw it by hand or old school CAD type of guy.) If I find a scanner, maybe I'll scan in all my napkin designs.
I call it the Wood Duck. Why, because from the profile, I think it looks like a duck's head. And I want to make it out of wood. Boom. The Wood Duck. And yes, I know its not a true tear drop, but looking at a utilitarian style to maximize space and given that in todays cars aerodynamics do play some role, but not as much as they used to, I'm going with it.
The trailer is guestimated from the
http://www.redtrailers.com
5x8 trailer with the beefed up axle, 13" tires and 36" tongue extension. The overall TD dimensions are 9' long, 5' wide and 4' tall from the floor to the top of the roof.
There will be some in floor storage for things like camp chairs, electrical, whiskey, etc. I have toyed with the idea of making a hinged drop down wine storage rack under the gallery between the spars in the trailer. Simple in my mind, not so simple in construction. I am also thinking of putting a bike rack to hold two bikes bolted to the front storage bin. I would then make the bin hinged like a corvette hood and open from the year. I suppose it depend on the clearance from there to my vehicle if the bikes would hit it or not.
Electrical: I haven't completely decided where to store the deep cycle batteries yet, but my options are in the front storage bin or in the lower cabinets next to the cooler. I guess it will depend how the weight and balance shakes out. I'm planning on adding a exhaust vent/fan, but I haven't completely decided on AC yet. If I did, the unit would be built into the front storage with exhaust vent out the side and duct work into the cabin area. BUT, I live in the midwest and I'm not sure that its needed.
A Couple of caveats: First: I know my walls have no thickness. It was an oversight when I was using sketch-up and I was too lazy to go back and adjust everything. I haven't totally decided what my plan is there yet. I'm thinking 1/4" outside skin, internal frame with foam and 1x2s and an 1/8" internal skin. I am thinking about having a rack on top for canoes which I would weld uprights from the frame for mounting
Second: I haven't come across a design yet like this in the gallery, but I wanted to do a dutch door style opening. (my inspiration came from an old Astro van that my family had FOREVER that had it. But in adding to the complication to this design, the lower doors will be on a two part hinge so they can open, wrap around the wall and tie back out of the way; OR The second part of that, is I was thinking of using some sort of pin style hinge in which the doors could theoretically lift, turn flat and slide into a holder to create side tables. (As shown in some of the drawings) In my mind this should be easy. In reality, I guess we'll find out. So there you have it.
I would love the feedback to see what you experts in the field think. Pretty Please? Or if I've DRASTICALLY overlooked something really simple, please let me know.
Side Profile (SEE!? It kind of looks like a duck head)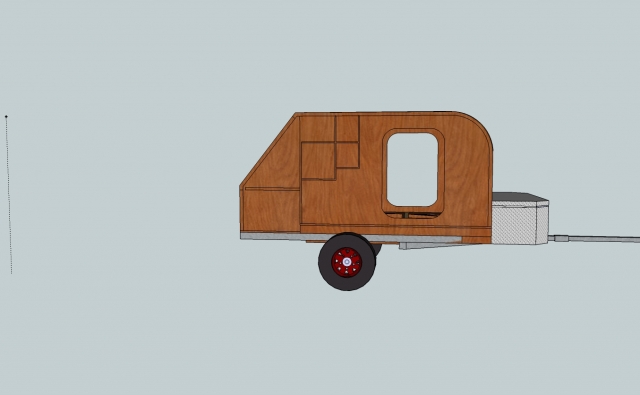 Galley
Rear With Closed Doors and Open
No Roof, Showing Interior and Storage