My goal is to convert a 7'x16'x6' Enclosed Cargo Trailer into a home away from home.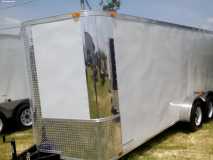 From left to right it includes:
* A Galley area, where the rear door lowers. The Galley will include a sink, stove, refrigerator, and cabinet storage.
* A standard queen size mattress, which can be lifted to access an under bed storage/utility area.
* Upper and Lower Cabinets to the left and right in the Living Area.
* A Portable AC/Heater Unit that will be secured from moving around.
* A 45"x32" Enclosed Shower
* In the Deep V-Nose I intend to will place a removable port-a-potty that can be secured for travel, as well as a plumbing and electrical closet
Windows will be plentiful in both the Bedroom and Living area.