Weelll, I have finally settled on a design. I like the weekender design, Mike thanks for refreshing your page!
I had a few options that I was considering, so, as some do, I have modified the design.
My TV is a 2015 Subaru Forester, so I'm trying to stay in similar height and width dimensions. Not completely possible, but we do what we can.
My "mod-nose" is a semi-V-nose style, while still retaining the Weekender lines... to an extent...
Here is the profile...
Here it is from the right-front.. In this view, you see the box area in the lower front to accommodate the tilt hardware that is already on my trailer. I'm not removing this feature, as I plan to have 4 stabilizers, and may lower the tongue to prevent busted shins. I may also be modifying the tongue to be a swing-away as well. You can also see my star gazer window.. if the budget allows it.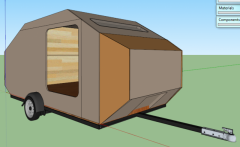 Now this view shows the real picture of my modified nose... The Tear is 5' wide up to the front, but the front face is 4', and the front-side panels angle in to meet it.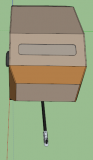 The different shade of brown is the area modified, the roof portion retains the same slope,but also narrows in to meet the side panels.
I have also made my sidewalls 52" high, as I have a 7" deep floor with in-floor storage and a foot area for sitting inside the tear to eat or watch TV
I also have not drawn in my vent, but it will have one.
My door openings are 30" x 36" to accommodate for the largest possible pre-fab doors. I am going pre-fab, just haven't decided on actual size yet, or 1 or 2 doors. If I start off with 1, I will frame the opposite wall the same to accommodate a future door, should I decide it's necessary.
I plan on having a slide-out from the driver's side under the galley for a Pet cooler, A/C & Heat ducted unit.
Please provide feedback on my design.