A perennial question, How do you keep it from going by by. What it boils down to is anything you can get a bolt cutter on is toast in a matter of seconds. The proof is the tests of bike locks on Youtube including some very heavy chains and locks. One reason I had a Bulldog hitch attached is the availability to attach Da Bull lock
http://www.youtube.com/watch?v=uCBUN1QgftM
I could not leave it alone and polished it up.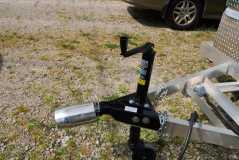 Gus when he designed the lock use 4140 steel for the central part of the lock.this is the same steel used in forklift forks and crane hooks and it is from first hand experience tough to cut off even with a cutting wheel. What you might ask is to prevent some one from simply unbolting the hitch and replacing it. The holes are there randomly and would not align with any existing hitch.
Distinct graphics make it more identifiable.