Hi all,
I am including a drawing to show what I am doing. Teardrop I am building is 64" wide (to fit walls and queen bed). The issue I am having is want to skin the curve at the front and the roof.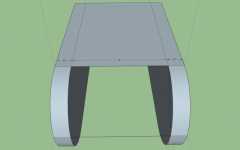 I want to use 8" strip, then a standard sheet 48x96, then the 8" strip. This will all eventually be covered with PMF. How do I seal these long seams best? do I just use the PFM or should I use a molding?
Secondary to this, if I wanted to take this on a little test run to a camp site 1/2 from house, would a coat of paint to keep dew from penetrating the 1/8 birch skin interfere with the bonding of the TiteBond 3 and canvas later?
Thank you all for all the great things I have already read.
PJL