Last year I set out to try an idea of building a flat pack cabin that would be easy to move in the Bed of a pickup Truck. I wanted to use 4 x 8 sheets of luan. At the time Luan plywood could be purchased for about 10 dollars a sheet. I wanted to use two sheets bolted together and that would form the floor and then split some sheets to build an upper wall section to make the cabin 6 foot tall inside. I decided on a flat roof and covered with a tarp for water proofing. I wanted to build as cheaply as possible. I used exterior latex house paint. Green for the sides and light green for inside walls and roof. My idea was to put a cooler and some basic camp gear on top of the roof and that would create a lumpy roof that would provide better run off of water and snow.
Here is a picture show of the process.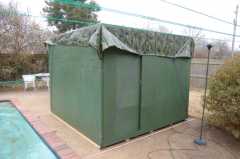 No nails only waterproof carpenters glue, clamped into place, screws used on the inner 2x2 supports for walls and roof panels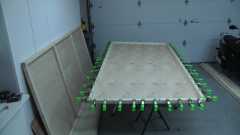 Bolts are purchased at TSC because they sell nuts, bolts and washers by the pound! A great value for projects.
Note the 16 foot geodesic dome in the background covered with boat shrink, another project!

unit goes together fast and once all the bolts are tightened the unit is extremely sturdy.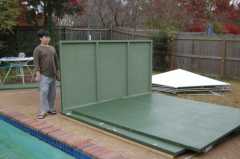 Paint is exterior latex house paint, but if I was to do it over it would be oil based enamel. Latex stays soft for a long time and I dont think it penetrates the wood any.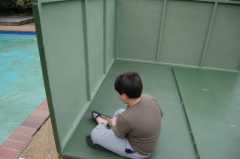 Two people could stay in this cabin with a bunked bed setup.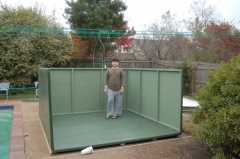 Foam Core insulation could be used in extreme conditions , however I was too warm inside with a buddy dual element heater even during snow.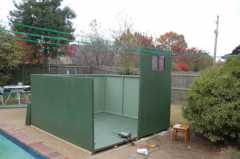 The front of the unit is made from a 4 by 8 sheet cut into a 6 foot section and made to total 93 inches wide.
The front door panel can use the horizontal bolts near the top of the panel to pivot like a hinge and create a garage door effect.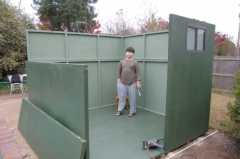 The window is a small shed window turned on it's side.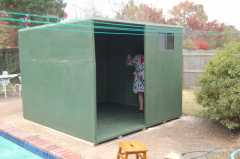 Depending on cost a window could be placed in each of the upper sections on all back and side walls.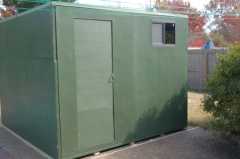 Unit stacks very well with door and window panels nested with the other panels.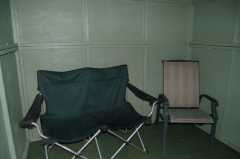 8 by 8 foot with a 6 foot ceiling is a good size for one person or two. Bicycle innertube could be used to water proof the upper panels as needed, however tarp was very effective in keeping the water out. Window had to be opened to prevent humidity buildup inside unit.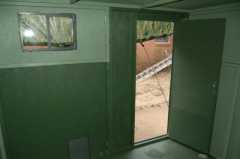 Haven't counted the bolts I used but, somewhere around 36 to forty bolts is my guess, 3/8 inch by 4 inch nut, bolt and two washers, I believe.
Hope you liked this build, thanks for taking a look!