Nothing out there worth standing in line for so we finished the roof and skinning one wall. Also cut out the hole for the roof vent.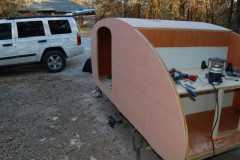 Before we put the skin on I took some milestone photos with a tape measure in case I ever had trouble fining one of the rails.
Also I did not have the budget for the very nice flush LED porch lights. So I just made a cavity and hid the wire. I will get some of the low cost euro style lights that "Li'l Bear" has.
Will finish the other side tomorrow.