destructive testing
the edge to face bonds broke easily

then I found the glue was still wet over most of the bond, the packages say 24 hours to dry, TBII had 48, and PL300 had 72....

definitely going to dowel all these joints in the foam, and give them plenty of time to dry in the hot summer sun.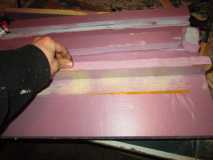 face to face bonds were slightly better, of course they were clamped over the whole length and the glue bond was much thinner, it was still wet in the middle. the PL300 actually broke the foam, but still not impressed.
I will only use these glues for the joints between panels (roof to wall, wall to floor, type)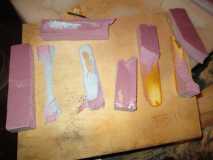 gluing to plywood gave me what I wanted to see, broken foam, even where it didn't break it tore the foam it was glued to away from the block. Since the wood absorbs water this makes sense.
No clear winner here, but both make me happy!

bad news here

this test explains a few issues I've read about on the big thrifty thread, unless the skin is roughed up to give the glue/paint tooth, the sock isn't really stuck to the foam. On my ply tear the paint takes top layer of ply with it when the fabric is removed.
From what I can tell, TBII socked foamies unless well bonded to the foam, actually have a hard skin that could stand on its own in whatever shape the foam molded it to. The TBII sample was stiff and didn't want to stay bent.
PL300 could work, but over a whole skin it would be expensive, hard to work (very thick out of the tube) and just as soft as glidden gripper once hard.
now to test some foam roughing methods