The thing I got today was a 2 berth caravan that had been used for some months as a large dog kennel.
I gutted the curtains, floor mats and all the mattresses before I even towed it home behind Nicola's car (which was today exchanged after failing its MOT )
I had been looking for a small shed to put up around the back at the garage, in which I could store all the parts of the Chevy as I stripped it, when the idea struck me, as I knew the local pub landlord had a 2 berth caravan to sell for £50.00 as well as another large one for £50.00 too.
Before I went down there, I called him and offered £40.00 which he accepted.
This is what I fetched........ 7 foot wide, body 13 foot long.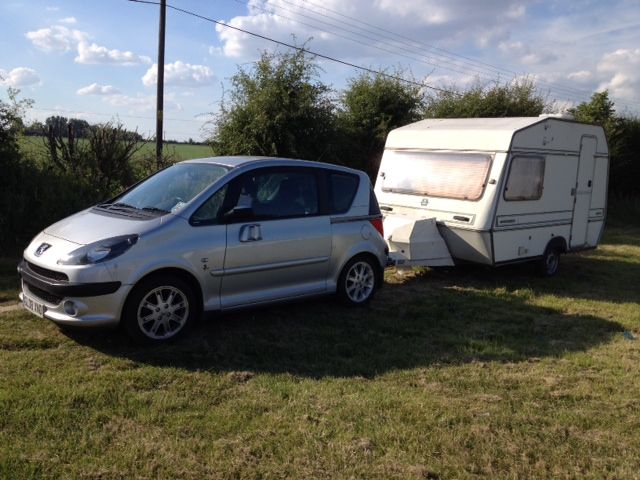 Back home I started to remove all the stuff inside, which includes a full awning, port-a-loo, water roll, cutlery, glasses, pans, and some other random stuff, including a spare wheel. Also found 17p.
Tomorrow I will vacuum clean it on the inside, then take my pressure cleaner to the inside too and wash the inside down, after which it needs to dry out, while I wash down the outsides.
Then park it around back, and start packing truck stuff from the garage into it.
Landed.
With some of the treasures.
Despite being terribly grubby, (made me gag in revulsion) it has a small toilet onboard and has potential to be restored to use once it has served its purpose as a spares shed.
The caravan/shed has been baptized by a South African friend as "THE KENNEL" and even if it becomes a camping caravan later, it will be known as The Kennel.
As usual I already have the next two incarnations in mind.
Once the truck is completed, the plan today is to have Nicola turn the inside into a cool little weekend away space.
The exterior may well end up in some mad NASCAR livery........ Think Sinclair Oil Corporation, or other similar with Red as a major component. I like the idea of having a Dinosaur on the rear, with its head poking around to the side of the door.
Today I spent about 5 hours washing the interior surfaces, undersides, topsides etc by hand with a rag and loads of Cillit Bang! About 6 buckets of water etc. I also cleaned the Porta Potty and other items that were in it when I got it. The awning and poles were wiped down and packed away under the mattress-less bunks.
The caravan was really only good for a bonfire, and to be honest, anyone who kept his dog in that thing deserved to be punched in the face.
After the interior, I spent a few more hours with a pressure cleaner, getting the roof, sides etc cleaned up.
Imagine a Dinosaur looking around the corner.
After that I parked it up outside the garage in front of the woodwork shed.
Spent a few hours today dismantling the interior, masking up window frames, cabinets etc and then proceeded to paint the first coat of Magnolia.
This is what the interior loooked like after my marathon cleaning session yesterday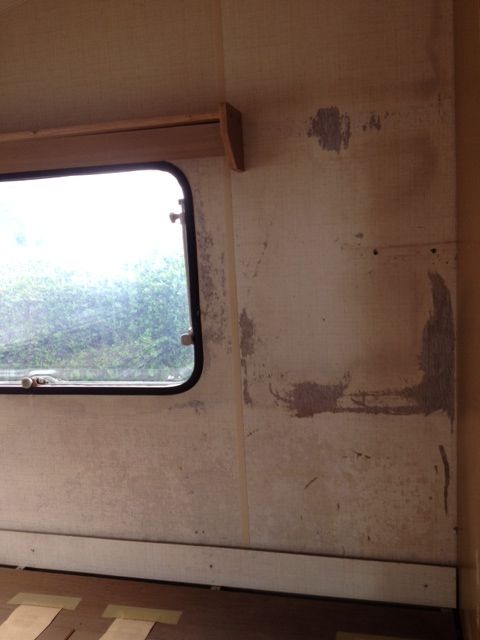 Next coat will probably go on at 05.00 tomorrow.
Then I will try to leave it alone.