I've had some business travel and other commitments lately but have still made some progress on my build - My focus has been to get the walls done.
I started by creating 2 templates out of thinner plywood - one for the outside profile and the other for the inside profile and then drew a 2x2 grid on each sheet: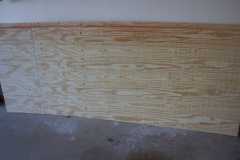 I tried to use a chalk line to create the grid but the lines were not crisp enough so I went back to using my trusty pencil - you'll notice some of the red chalk in the image above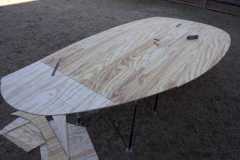 Once I had cut over my templates, I spliced 1 and 1/2 sheets of 3/4" ply together to create a large 12' sheet. These sheets were quit heavy to handle! Splices where done using 3.5" overlap joints and titebond 3 wood glue. I had to get creative finding heavy objects to help weigh it down while the glue was setting: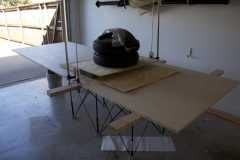 I used the outside profile template and a router to cut the first wall profile and then used the first wall to cut the second one.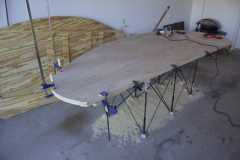 I then used the inside template to mark out the voids and used a jigsaw to roughly cut out those holes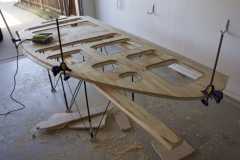 I then used a router to neatly finish off cutting the voids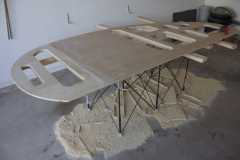 When done, I used the first wall as a template to cut the voids in the second wall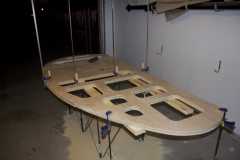 I then used a router to route out the 1/4" deep mortise along the edge of each wall. The straight part at the bottom was easy to do using my straight edge as a fence but the curved part was a real PITA (Looks like I didn't take any closeup pictures of that)
Once done, I was able to dry-fit the walls
I haven't cut the door opening yet - I measured and cut the door opening in my templates but want to wait until my doors arrive (yet to order) before I actually cut the walls. Next up I'll look at skinning the inside of the walls and start working on the cabinets.