Hi guys,
The Trailer
I purchased a used, 2014, 6x14 (inner dimensions: 5'8" wide, 12'7" long, 6'2" tall) CargoMate cargo trailer.
Max trailer weight: 3000 lbs.
Empty weight: 1300 lbs.
Gives me 1600 lbs to play with (I understand I want to keep that as low as possible!).
I intend on swapping in a straight axle with brakes to give me better ground clearance.
The Vision
In December my girlfriend and I are going to go full-time in the trailer. (We both work from "home", and don't need 24/7 high-bandwidth internet.) Right now we're thinking we'll spend anywhere from 3-9 months living in it, depending on how long we can stand the close quarters and how long it takes us to find where we want to settle next.
After that, it'll likely be used as my office and our weekend/week-long "camping" trip rig. The final thought is that if (when) the next recession hits, and it's real bad, or if I get bored of my job, we've got a Plan B that doesn't involve spending lots of money on rent. In other words, once we have the trailer done, our potential minimum cost of living will be quite low indeed.
We plan to do a fair amount of boondocking in the Southwest and potentially Baja. Stealth isn't a priority.
The Plan
Floor plan rendering:
From the rear: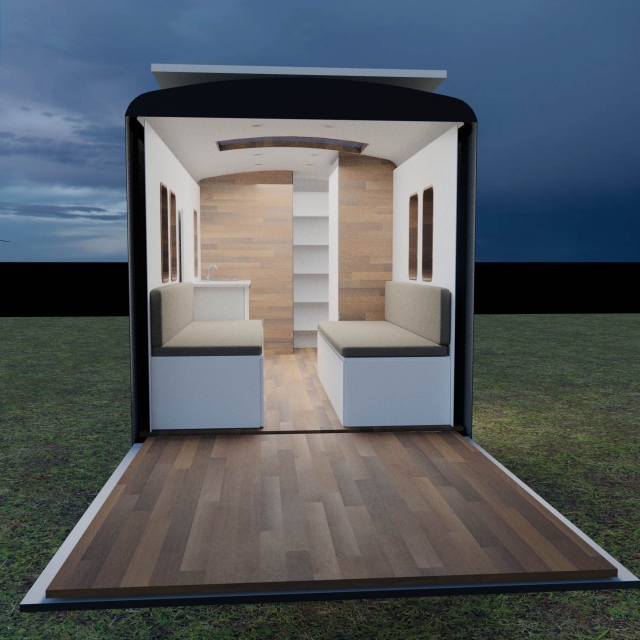 Rigid insulation in floor, ceiling, and wall cavities, with 1" continuous insulation on inside of walls.
Floor surface = doug fir tongue and groove.
Wall and ceiling surfaces = white painted 1/4 or 1/8" birch plywood paneling.
For the systems, I'm going as minimal and simple as possible. So:
Composting toilet.
Marine grade foot pump for the sink.
Jerry can for greywater tank under the sink.
No fridge (yeti cooler instead).
Propane 2-burner stove.
Basic LED lights.
2 AC outlets.
Fantastic fan (over the toilet).
Still trying to decide if I want to purchase windows or attempt to DIY. I don't really like the windows I found on the internet, but I know attempting to DIY is a pretty big risk that I'll screw it up and invite leaks etc. Still doing a lot of reading and research around all that.
I am going to attempt a DIY lexan skylight over the bed.
Current State:
I'm just about done stripping the old paint off the frame, and will be POR-15'ing it.
Here's where I'm at today: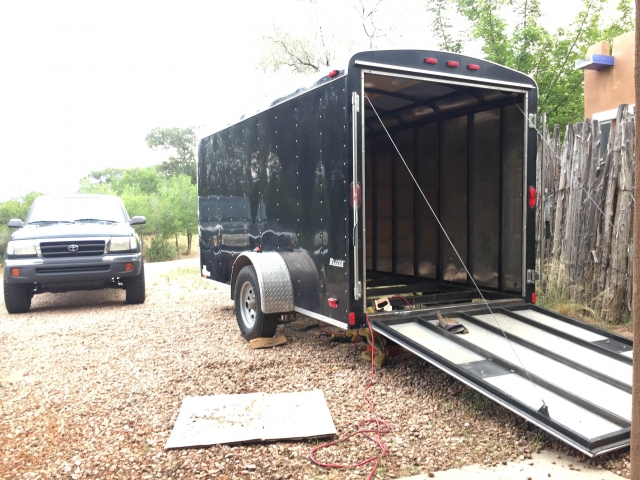 So, a ways to go yet.
This is my first build, so I am very, very open and appreciative to all opinions, advice, and questions.