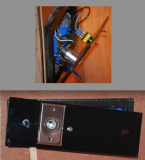 switch plate almost done. I had to add 2 more screw holes to keep plate flat. Then I get to make one for the other side. Using brass screws to hold plate on.
devises on drivers side plate left to right inside lights, DC plug, Stereo head phone plug, reading light switch.
devises on riders side plate left to right outside lights, and the rest the same things.
I drilled most of the holes on this plate with a drill plate not some cracking. The other side will be drilled with these.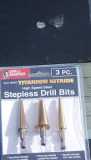 note hole on the right is rough and cracked the hole on the left smooth and straight.