Hello all,
After lurking for many months on this forum, soaking up a lot of great ideas and the endless good cheer and enthusiasm, I have decided to embark on a Foamie Build. It will be based on a NT 5x8 trailer. I have a general idea on the build, but it will definitely be an organic process, changing ideas and direction along the way (within reason and bounds of sanity).
My wife's name is Kit, so we have christened the future Foamie "Kit and Caboodle".
After many days of very unusual cold weather here in western NC, we have progressed from this:
276 pounds of possibilities...
to this:
a road-worthy chariot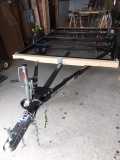 We added the 7' tongue extension to the original kit. We also swapped out the original 12" tires for these 13" puppies: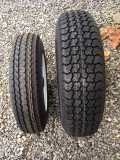 My wife peered at them and pronounced "I feel safer already."
We are extending the front of the trailer a bit, to accommodate a queen-ish size foam mattress. A couple of 2x4s with 1/2" spacers will do the job: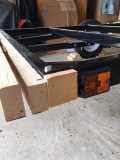 BTW, that little 2.5" square glued just to the front of the running light is held in place with nothing but PL Premium, and I have declared this glue my new best friend. That little wood block is not going anywhere. It was simply glued directly to the painted metal, and not even a sledgehammer will coax it to move (of course I am not going to test this theory, but I have faith).
I also whipped together some custom-fit wheel chocks out of spare 2x lumber, and they work admirably. The trailer does not budge: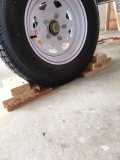 That's all for today, it's 32 degrees in the shop (in April ????), time to go in and warm up. Early this week I hope to trundle on down to Lowes and pick up plywood, foam, etc.