Here is some more information that may help or at least give you pictures: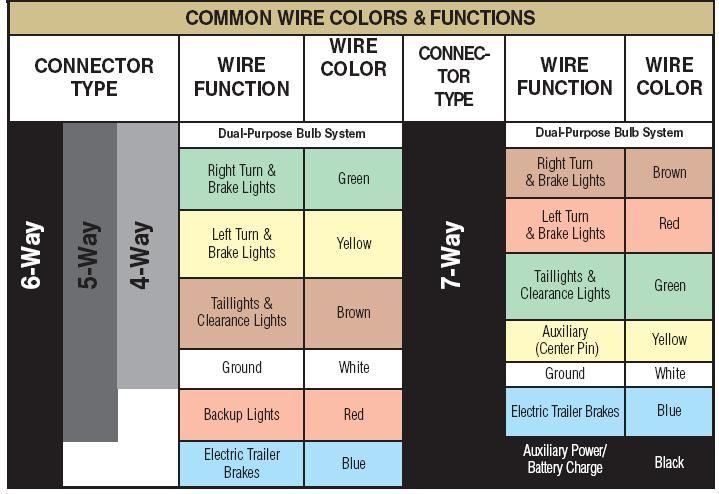 Note:
Your connector choice above will have common wire colors for picture below:
Click here

and scroll down to see more data for the above picture:
NOTE:
License Plate light

will be wired to


Brown wire

= same as (side marker lights) AKA (running lights). The white
ground wire should run to a fixed block and all lights having a white wire to
that block for best results. Using frame ground is not recommended see
A Guide to Maintaining Trailer Lights and Wiring.
clicky
For more on Grounding. Search on Ground~
(Seven way plug will have a different color wire setuP) See above chart ~:thumbsup:
MadJack wrote:

Note

these color wires are NOT for a Seven wire plug setup but 4-6 pugs only.

"The brake and signal light work off of the same wire and the other wire is for running lights...and of course a ground...

white...ground

brown...running/marker lights <& Licenses plate light>

green...right turn/brake light

yellow...left turn/brake light

Special Note:

IF the Tow Vehicle (TV) has separate bulbs for brake and turn and your trailer doesn't, you will need a converter/logic circuit to get them to working proper...another setup, has a separately powered system for the trailer since there is not enough voltage on the regular lights to power the trailer

"
Question:
External trailer lights are notoriously intermittent or go out
, what causes this?
Answer:
Improper grounding of the white wires for lights are the usual problem.
A Guide to Maintaining Trailer Lights and Wiring.
http://www.geocities.com/Yosemite/2358/ ... s/a08.html
Search on the word "

ground

" in your browser to
narrow down your point of interest on the above link :
http://tnttt.com/viewto ... 794#186794