We had a Fantastic Fan in our other teardrop, and the new Yoder Toter we bought does not have a roof vent. It has a small fan that exhausts air to the galley, but does not seem to move much air. The doors/windows do have screens in them, but if you look at the size of the screen, compared to the size of the door area, it is still not very much ventilation. Of couse, you can always open the door and get infested with mosquitos, but that's no fun.
We built some screens for our doors that cover the entire door area. A few 1x2's and some screen and screen cord. We lapped the joints on the 1x2's and screwed and glued them, and then used a jigsaw to round the corners to match the door frame. We cut grooves in the 1x2's with the table saw and it was just the right width to accept the screen and cord.
We made a cross brace for the center (inside and out), with a homemade handle on the inside to make it easy to hold on to.
We put self sticking velcro on the door frame and the door so they are very easily removeable. The velcro is not on the face of the frame, but on the edges/ends, so the heigth tolerance had be pretty close. Made pull tabs with an old web belt we cut and screwed on the top, both inside and out. You place the screen at the bottom inside the door frame on the velcro, then just pull it closed at the top to meet the top velcro. From the outside, just pull the tab on top and out she comes.
These have made a HUGE difference in sleeping comfort.
Another thing we did, was put roll up curtains in the inside top of the door frame, rather than on the door it's self. Then they can be used with the screens and the door can be left open.
These pics were taken at Montgomery Bell State Park in Burns, TN on Labor Day weekend.
This shows the screen in place.
Here is a view of the inside of the screen.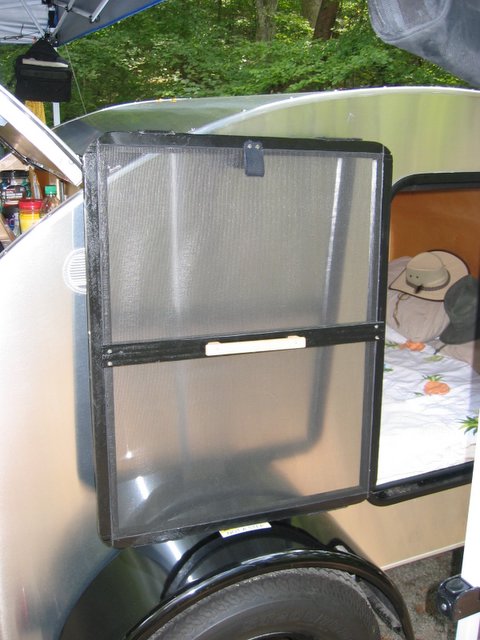 Here is the outside of the screen
Happy Camper