Hi
Along with tow vehicles, awnings find there way onto the forum all the time. However I have not seen one I wanted to strap on my TD. So I made one and if you are going to make one it should realy be teardrop shape.
In the US I guess a fabric cover is needed to keep the sun off as much as the rain. Here in the UK (it rains here a lot) I wanted a small shelter for my boots and something to keep the rain off the door.
The fabric is ripstop nylon form a kit shop. It was a snip at £2.23/linear meter by 1.5m wide. (approx. $0.23 per sq. ft)
The curve is kept up with a segmented carbon fiber pole running in a long sock.
I got some Ally curtain track which is made so you can hang curtains from the ceiling. I cut off the side strip which you were supposed to fasten it up with, annealed the ally in the approved manner and screwed it to the side of the trailer.
If you look closely you will see it tapers from 42" wide on the curve to 22" wide by the door way.
I am busy making a small cover for the kitchen, for cooking in the rain. And a very small pocket handkerchief sized one for the door. This will have two uses. In the UK caravaning is more popular than camping and often its on concerted areas. ie no place for the pegs. Also I have been out with the TD and the conditions would have blown a full awning away.
See my album
http://tnttt.com/album_ ... c_id=14873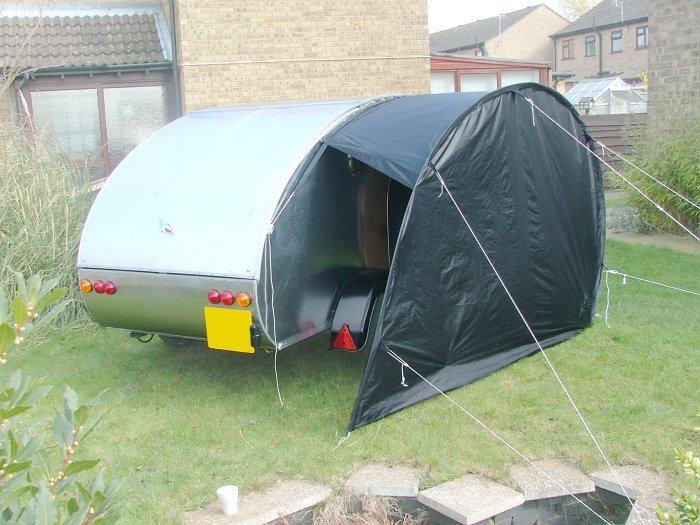 Clive