I have been working at the design for the next build. I've redesigned several times trying to stay within the initial concept for "The Paddy Wagon". I'm not buying one stick of wood for the trailer until I work out the bugaboos in the design.
Using the charts and all the other information available, I come up with a weight of 925 pounds including the mattress, battery and a/c unit. That 50 pounds for the a/c is giving me fits . I've been trying to keep it high and in the front; but that weight basically over the tongue is really messing up my tongue weight percentage (especially since the area below the a/c would end being used as a tongue box and more weight will be added when loaded). I either have to have a 6 foot tongue or move the axle so far forward that it interferes with the door location.
Unless I want to give up the a/c, the only other option I see is to move it to the rear and give up some galley space. I did some work up drawings of something I think I could live with; but I'd like some opinions on whether it will work or if I'm overlooking something. I am thinking that I might be able to mount it sideways in a enclosed compartment under the galley counter through the side wall, build a shroud and add some duct work to the cabin area. A similar compartment would be put on the other side of the galley to house the battery, shore power and other electrical components to balance the weight load side to side. Both compartments would have matching vented access door in the side walls. The drawings have the front face left off under the galley counter for clarity sake.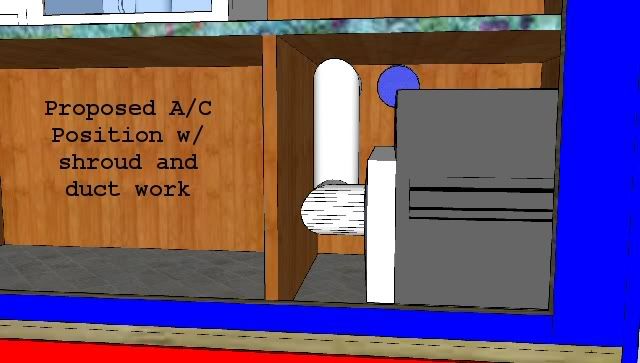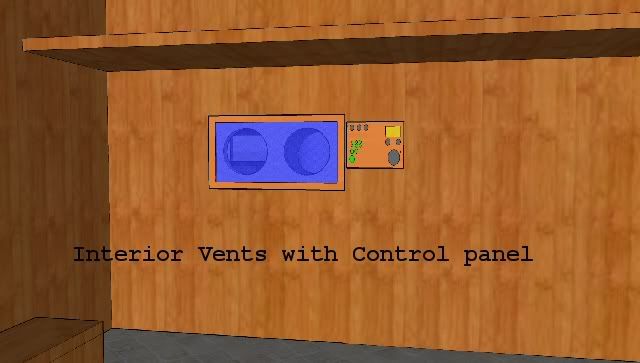 Since I don't really want to have to go outside to turn it on and off or adjust the temp, if it's possible, I am also going to try to rewire the control panel and mount it inside near the vent.
Will this configuration work? Do I need to add additional fans to move the air around inside the compartment? Any thing else I'm overlooking?