From the five minds of Mikey comes this solution to a screen door.
List of materials:
Sponge rubber pool noddle
Broom handle or equivalent
Screen material
Color matched duct tape
Double sided Scotch Mounting Tape
Broom handle clips
Thin metal bar to weight screen
Wheel knob for cranking screen up
Vinyl weather stripping color match (Lowes)
Slide noddle over broom handle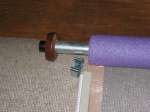 Tape (double sided) weather stripping to interior sides of door frame:
Use duct tape to border screen for strength-two layers. Also tape thin metal bar to bottom of screen
Mount broom clips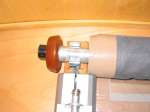 Tape one end of the screen to noodle
Mount roller above door
Pull bottom of screen through the slots formed on each side by the weather stripping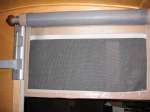 Width measurement is critical; better to be too wide than too narrow.
Works good and is out of the way. One note broom handle clips come in three sizes; I found the larger ones to work best. I believe this application will work on most tears.[/img]