Yesterday,I gave birth to a beautiful 8-pound bouncing baby 120V panel, and I don't know what to do with it. (I mean, what do you FEED these things!?)
Here we go, and thank you in ADVANCE for your patience. The rear photo is a little blurry (I had to get close), so if necessary, I'll take a better picture later.
Here's the front. There's a 30-amp main breaker at top, and two 10-amp and one 15-amp lines. The 15 amp will be dedicated for the air conditoning outlet. The 10s will be used for daisy chains on each side of the TD.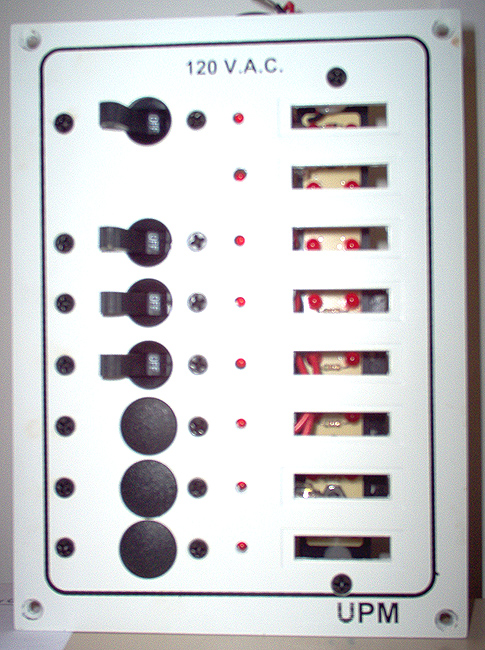 Here's the rear--like I said, a little blurry. Please note the red and black wires coiled up at the top, and the red wires coiled and capped at the bottom.
And most important, here's the schematic. (The amperage marked on this is WRONG. The two first breakers are 10-amp, and the bottom one is 15-amp.)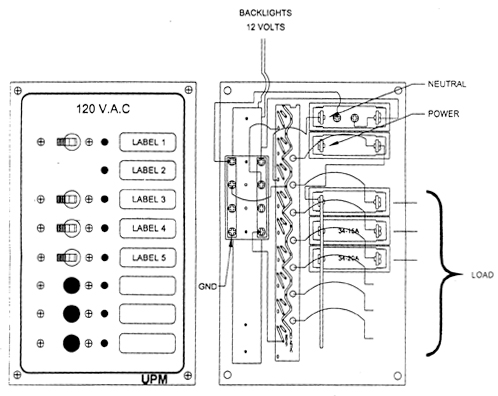 Okay--what the hell do I do NOW?
Let me take this slow and easy...
As you see on the schematic, it seems to indicate those top red and black wires as "Backlights/12 Volts." What does THAT mean? This is a 120 panel.
I guess the best place for YOU to help ME here is to first help me figure out how to connect the main feeder line. Know what I mean? I'm going to be mounting a female receptacle (which I've yet to buy) on the outside of the TD. A cord will go from this receptacle to shore power.
Which wires/screws here get connected to THAT?
Once you can teach this dummy here this little detail, we'll take it from there.