I'm considering using Gorilla glue for certain applications. I'm still going with the Titebond for attaching my skins to the front, back, and top. Before I ask my questions, I'm going to give you all of the details whether you want to know them or not...I just want you to know what, where, and why.
For attaching the sides to the floor, I have two attach points. One is the 1" x 3/4" strip that runs down the length of the side, 2" from the bottom. It will sit on the edge of the floor, with the side skins going down along side the side rail of the frame. That strip will be glued and screwed to the floor, which is bolted to the frame. Here is that diagram, looking from the front end of the trailer. There has been one difference since making this diagram. I will use poly sealant between the side skin and the frame, not construction adhesive.
The 2nd set of attach points are at each end of each side. I've bolted a spar to the front and back end rails with 3 carriage bolts for each spar, with polysealant between the spar and the end rail. Then, the floor end is scred into the spar. Next, I will add another spar on top of the floor, screwing and glueing it to the floor. A filler strip will be put in at the end of the floor to smooth things out. This next diagram shows how that looks (or will look). The front and read bottom corners of the side skin will be screwed into both of these spars, two 3" screws into the end of the bottom spar, and one into the top spar. All of this should tie the sides securely to the frame. This diagram is looking at the front left corner of the side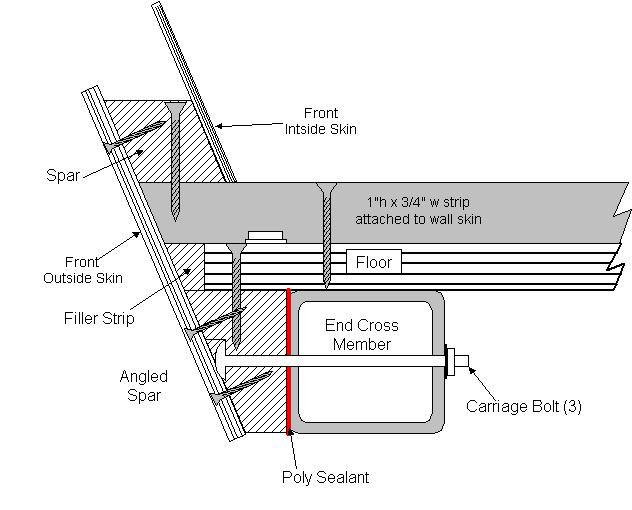 Where I am sonsidering the Gorilla glue is to glue the strip to the floor, and the side skins to the ends of those two spars front and back.
Now, after all that, we get to my questions. Having never used Gorilla glue,
1. How damp should one side of the wood be? Do you spray it on, wipe it on, or use some other method.
2. What is the purpose of the water in the first place? Does it help the glue cure?
3. If varnish gets on any of the wood, will the gorilla glue still stick the pieces together?
Thank you for your help. Any other comments or suggestions are welcome (I already know about stuff sticking to my skin, hair, clothes, etc., and to wear gloves...
the hard way
!)