Hello, All
There have been many threads on side tents however I would like to address this subject one more time.
Here is the thread I participated in recently on side tents
http://tinyurl.com/q63pw
I really like two styles of side tents and would ask for some more input on these two styles.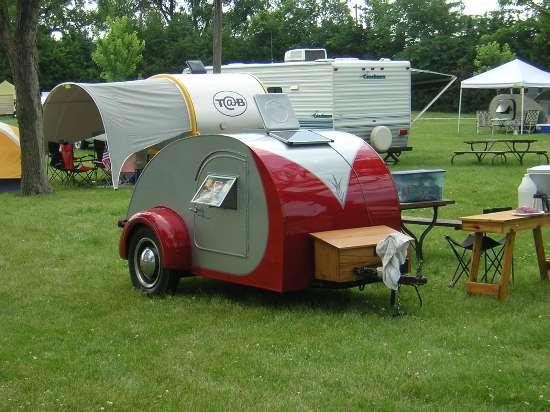 The first is the TAB side tent. I haven't found anyone that has bought one and wonder if it could be adapted to a standard Teardrop (5x10). That is attached on the edge like the TAB with ease? Anybody out there know the price and if the adaptation could be done with ease for a Tear? See pic above for example:

Anyone have one of these Tab side tent?
Can it adapt for a Tear?
Cost?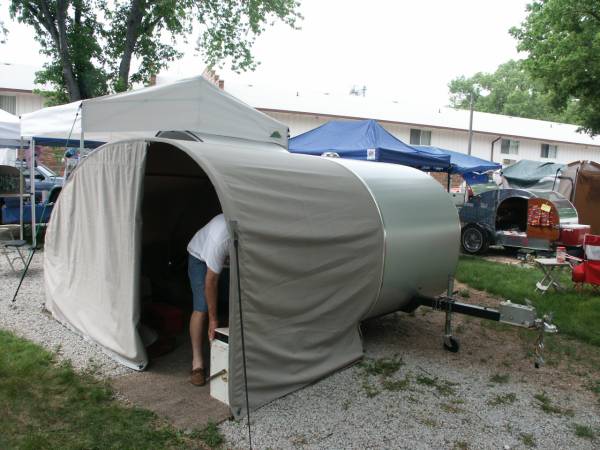 The second question on side tents is about the tent that won best idea award at Minden 05. See pic above: I want to know if anyone knows who made it or if there are any plans or more details as to how it is attached to the tear? I would like to make this one if possible.

Here are some more pic's of the side tent above to get the full flavor of this construction courtesy of (Kevin A.) = http://tinyurl.com/gj53h

Anyone know if the persons that made this side tent are on this forum?:
Are there any plans or details to make this side tent, costs etc.?:
How does it attach so nicely to the Teardrop?: