When we camp we almost always take our SUV tent and attach it to the side of the teardrop.
Our two boys sleep in the tent and we sleep in the teardrop.
The teardrop door on the tent side stays open at night.
I then had an idea for an easy way to "install" our AC unit.
We don't alway need AC when we camp so I didn't want to permanently install it in the tear.
So here is what I came up with.
I "installed" it in the tent!!
I cut a flap in the side of my tent.
I talked my mother inlaw into doing the sewing.
She sewed on some edge tape and some velcro.
Pull the flap down and slide in the AC unit.
The flap is on the side of the tent closest to the
teardrop so when in position it is under the teardrop and for the most part hidden from view.
Here is the flap in the closed position.
Here is the flap open.
AC unit in position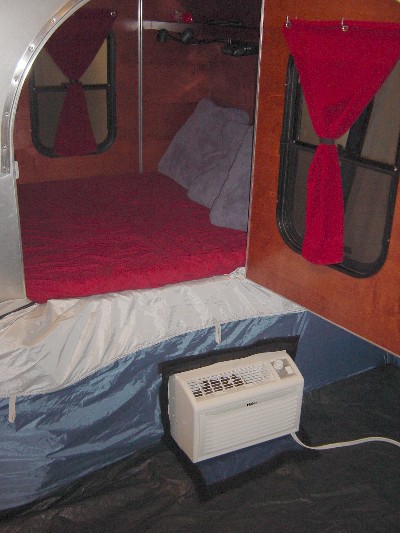 Close-up of AC unit
We did a test run in the gargage.
It was 89 degrees and humid, it worked well.
We also have a small fan for the tent which will help
circulate the air back towards the teardrop if needed.
I think this idea should work well.
On the trips when AC is not needed we can leave
it at home and just keep the flap closed.
Kind of funny when you think about it.
I have an airconditioned tent!