Sorry for the length.
I can't take credit for this joint--came across it a couple of weeks ago in a small boat mag called duckworks. I decided to give the joint a try using the dovetail template from my cheapo HF dovetail jig and a pattern following bit. I glued up the 11 ft panel of 1/8" luan for the first roof panel. Due to time constraints, I put the second layer on with just glue, staples and butt joint.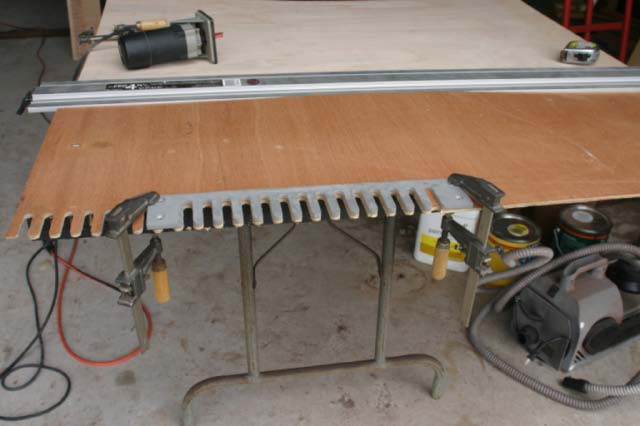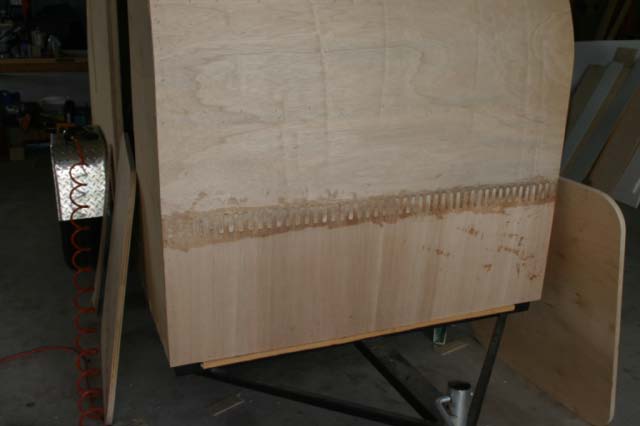 I purposely did it pretty quickly to see how the joint would turn out without being too anal about the whole process. The router work is fairly quick (15 minutes or so per panel end, and I stacked two panels at once without problem), but you have to be moderately careful on the layout of the router template. If one was careful, they could incorporate a well made, interesting looking joint for long panel construction. The flaws in the joint will come from the accuracy of your jig and carefully moving the template accross the sheet. But I was startled to see that just a little careful layout, overlaying the template over the previously three or four fingers yielded a pretty good joint. The gullets (the bottom round valley) had gaps that could be filled with epoxy and filler, but with a little work, even those could be eliminated.
Important point--do not test fit the piece before gluing!!! You cannot get this joint apart without tearing the fingers up. Place the panel fingers on top of each other, apply the glue or epoxy and use a mallet and piece of wood to knock the joint together. The joint holds itself together without clamps, and can even be moved around--but go back and pound the fingers back together, especially on the ends.
I was surprised at how well the joint worked on the 1/8 thickness. My payoff was one long panel, and I didn't have to worry about the joint falling on top of a roof spar. A little bit of bow or cupping on my panels caused the fingers not to be completely flat. I smoothed the uneveness with epoxy and a little sanding. If I had just sanded, I would have gone through the veneer layer and exposed the core. I think the joint would adapt better for 1/4 inch and up where there is a little more meat to work with. Joint will not bend well, so don't use on a radius. I purposely bent a test piece to about a 12 inch radius before the wood around the joint broke. I will definitely give this joint another go before shelling out for 10 foot ply in the future. People are so amazed at plugs over recessed screws that this joint will have people thinking you are a woodworking craftsman.